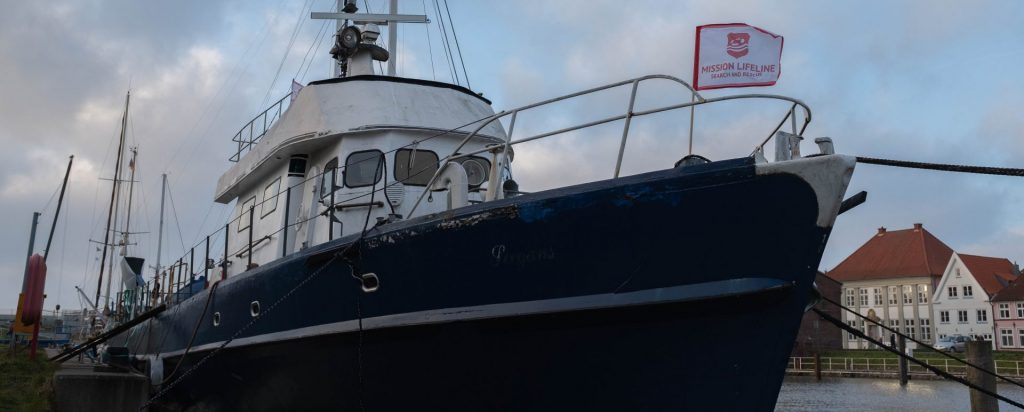 RISE ABOVE – OUR NEW SHIP FOR CIVIL SEA RESCUE
A simple idea becomes a vision. Now it´s a reality
Gerson Reschke and his brothers Raphael and Benjamin let action speak. Together with us they bought a ship, the RISE ABOVE. Until 2002 it was used as a torpedo recovery vessel by the Bundeswehr, named "Seegans". Now the 25 meter long ship is being rebuilt for use in civil sea rescue in the Mediterranean. The RISE ABOVE can take up to 150 people on board.
Together with Sea Punks, we collect all necessary donations for the upgrade of the rescue ship. Thanks to the efforts of many voluntary supporters, the ship is emptied, cleaned, given a new coat of paint and treated with antifouling. Then refurbishments and installations of superstructures take place. This includes attaching a radar system, a satellite system and a roof with solar fields. You can follow work progress on Facebook, Twitter and Instagram.
The installation of a medical center on board has already started.
Before leaving to the Mediterranean, the equipment is completed with life rafts, 300 automatic life jackets, meals, towels and clothing for guests.

We are determined to opposing the limitation of civil sea rescue by European politics. Everyone has the right to flee and live a better life. We stand for it with all we have.
Support us with a donation for the rebuilding of RISE ABOVE!
Antifouling protects the hull in the underwater area against vegetation, mussels and snails which increases the flow resistance and thus slows down the ship.


foto: Lars Hermes