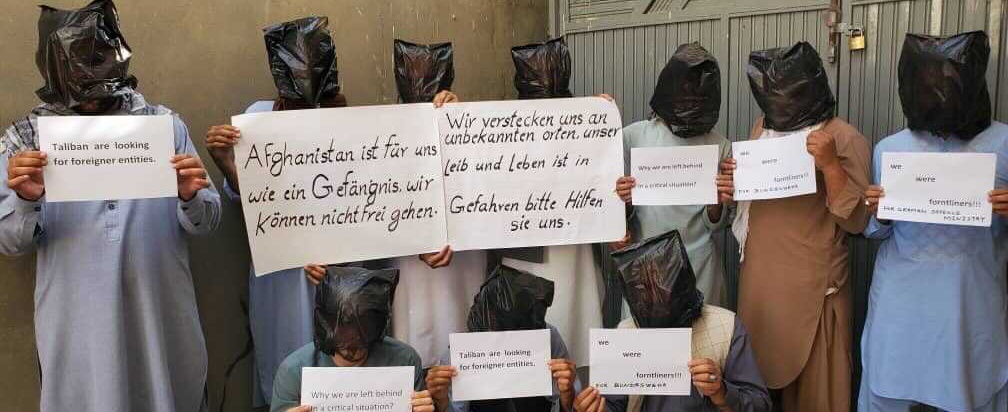 German government cannot find a way out of Afghanistan for its local staff
October 09, 2021
Right after the end of military evacuations on 31st Aug 2021, civilian evacuations started from two major cities of Afghanistan namely Kabul and Mazar-e-Sharif. Thousands of people have been taken out of the country through charter flights since then. What has been the share of Germany – the biggest contributor in Afghanistan after the U.S. – in this process?
The numbers given by German officials indicate that only a small portion of people who were promised relocation, have been evacuated during the past month and after the end of military evacuation in August. And let's not forget that these people have not been rescued through charter flights but they had to take the risky ground routes to Pakistan and from there they were taken to Germany. German officials claim they still haven't found a way to directly evacuate local employees from Afghanistan and are negotiating with the Taliban. These negotiations have already taken more than a month and there is no timeline to explain how much longer they will take. Local employees, on the other hand, who are afraid of their backgrounds and keep low profiles, flee from place to place and in some cases even have to sell their property to earn enough money to pay for food, shelter and medicine.
In a bid to find ways out of Afghanistan, we were able to find out that there are certain private companies, contractors and networks made of veterans that evacuate local employees directly from Afghanistan – something the U.S has been doing for more than a month now. The following is the online addresses of some organizations that are said currently running civilian evacuations from Afghanistan:
Different media outlets including Reuters have written about the activities of these organizations: https://www.reuters.com/world/asia-pacific/private-groups-aiding-thousands-afghanistan-worry-about-dwindling-funds-2021-09-30/
We also found that not only the U.S. but other countries like Canada are also running evacuations from Mazar-e-Sharif, Afghanistan. In this Facebook post a woman has written, "Goodbye Afghanistan. Hello Canada." as she can be seen going toward a civilian airplane – https://m.facebook.com/story.php?story_fbid=293009199317473&id=100058251858986
"There are weekly evacuation flights from Mazar airport. Thousands of people have already been taken out of the country. I don't know why Germany isn't doing anything to help you," said an employee of a private company at Mazar-e-Sharif airport.
Also another source inside Mazar-e-Sharif airport anonymously described the process of US evacuations, saying the lists of the local employees are prepared by US relevant government organizations. Then they are handed over to the Task Forces and contractors handling the process.
There is substantial evidence to prove these findings both in the media and on the ground. It seems that solutions are there if the German government has a political will to help its former local employees. Waiting will only worsen the situation for thousands of people who keep hiding and will put them at greater risks. Taliban has already started door-to-door searches, going after their targets and even torturing the families of those who were once employed by foreign forces in Afghanistan. Germany needs to react now if it wants to fulfill its promise of protecting its local employees, other countries are doing the same.