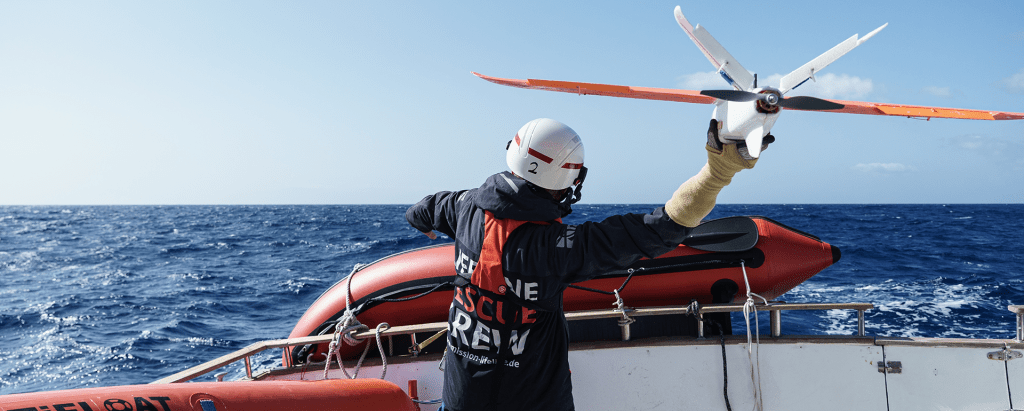 Drone deployment in vast search area
For 1.5 years now, we also have support from Search-Wing. A student project from Augsburg, which is dedicated to the development of special drones and corresponding software for sea rescue. The drone enables us to cover a larger search area. It launches with a previously programmed search pattern. Upon completion of the grid and successful landing, it is then recovered from the water. Specially developed software carries out an initial review of the image material. It provides a pre-selection of image sequences with potential boats, which are then verified or falsified by the crew.
In mid-April, the crew of the Marwa travels to Tenerife and spends several days preparing for the upcoming mission. In addition to general safety-related training such as fighting fires on board or evacuation to life rafts, mission-specific scenarios such as first aid, launching and recovering the drone, and tactics for encountering a boat in distress are also trained. Plans are made for the emergency roles and watch shifts, as well as daily changing responsibilities for cooking and cleaning. Then, fortunately, a larger window of good weather opens up, allowing a trip to the search area. From Tenerife we first head towards Gran Canaria and then south to the level of Boujdour. In this area we cruise several days and nights. The main task is to permanently scan the sea around us and the horizon with binoculars.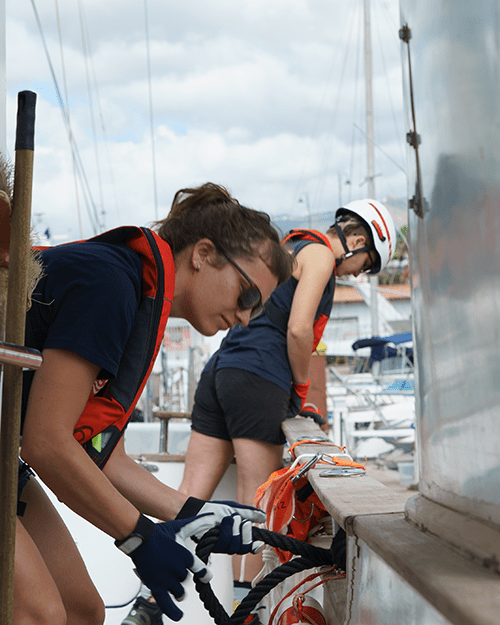 Up to 5 times a day we also send out the drone. The difficulty here is first of all to drop the drone against the wind from the back of our ship while the boat moves back and forth neatly due to the waves. After the flight and its landing on the water, we can collect the drone again with the help of a boat hook and safely take it on board.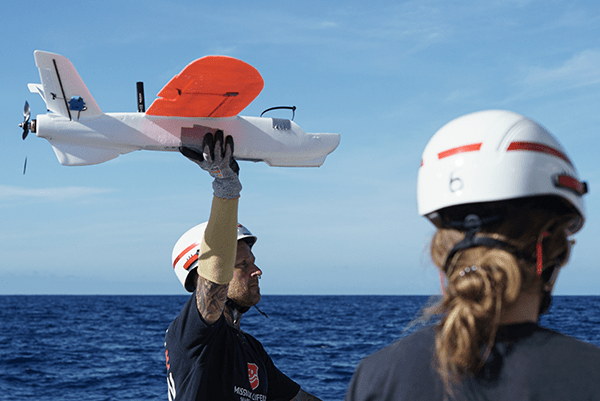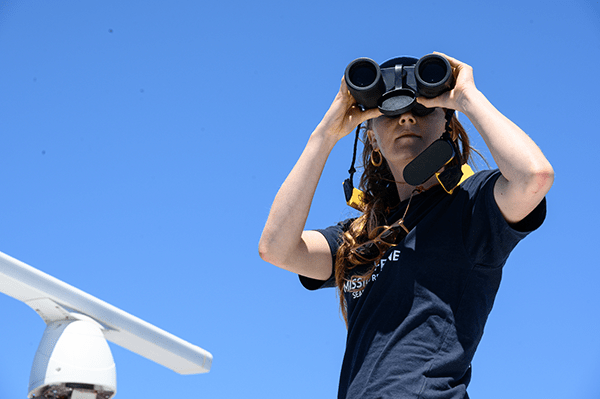 After the drone returns, it's time to evaluate the images – depending on the sea conditions, it's a challenge to stare permanently at a small screen without getting seasick. With each passing day, it also becomes more difficult not to lose confidence, especially when PAN PAN are regularly repeated over the radio, from boats that are in distress or have disappeared without a trace for several days. An emergency call has accompanied us since the first day of our mission. A boat with an unknown number of migrants started on 22.04.2023 from Dakar in Senegal in the direction of the Spanish islands and is now reported missing. We think about the route they could have taken. We study the sea chart, the currents.

Credits: Hermine Poschmann, Anja Taubert