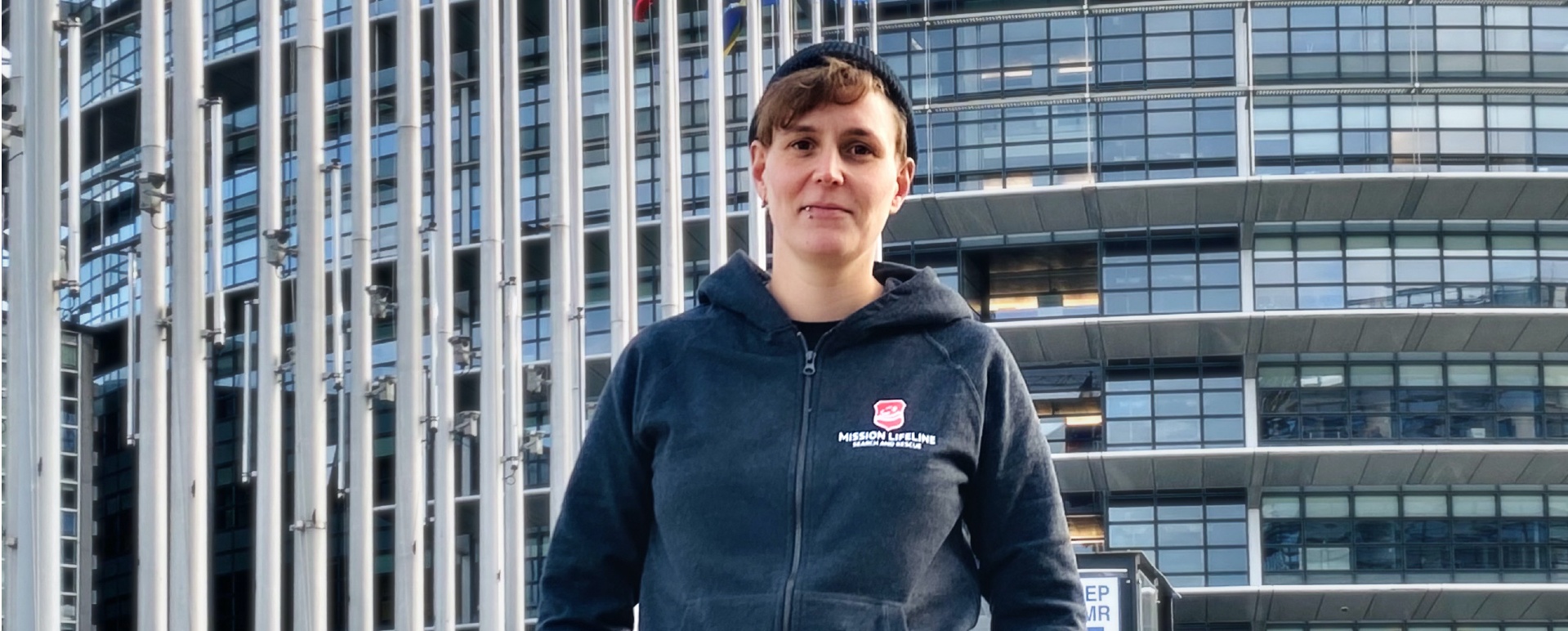 There is no need for new laws on Search and Rescue. It is time to respect the existing ones.
Hermine Poschmann at the EU Parliament in Strasbourg
23. November 2022
The EU presents an action plan that aims to hinder civil sea rescue and to deport more refugees and bring them to torture camps. Our board reacts!
Let me explain one thing. We have been fighting for 7 years to prevent people from drowning while fleeing across the Mediterranean. For 7 years we have been attacked and criminalized by European politicians for this. For 7 years we have been able to prove in countless court hearings that we are acting in accordance with the law.
I am not here to negotiate human rights with you. They are not negotiable. Nor am I here to negotiate special rules for NGO ships. There is no need for them. There are laws and regulations that universally apply to everyone and that we all, as NGOs that we stand together, more than comply with. A small hint: International Maritime Law and Human Rights Declaration.
I am here to discuss with you why European states do not act according to the law and do not comply with these laws and regulations. Italian government send decrees to NGOs asking them to break the law. Responsible Rescue Coordination Centers from European member states do not answer to distress calls from the Mediterranean. European countries let people drown and finance the deportation to countries where people face torture, slavery, and death.
I am here to demand that all European member states take responsibility. But that starts with understanding. Understanding that the member states of the European Union are responsible for the deaths of more than 25,000 people in the past 7 years in the Mediterranean alone.
Why? You missed to establish a proper state coordinated Search and Rescue System. By criminalizing us NGOs, you hide behind your deeply xenophobic and self-centered attitude. You make us responsible for the fact that people are fleeing. There are a lot of reasons for people to flee. NGOs are not the reason.
You are not concerned about the people and you are not concerned about solidarity and the main point: You are not concerned about existing laws and regulations for Search and Rescue. You are only looking for ways to get rid of people as quickly as possible. People that are seeking protection, people that obviously don't fit into your picture of our world.
To become more concrete: Stop acting against law and human rights. Stop holding people hostage on NGO ships. Stop spreading fake news about NGO actions. Stop constantly coming up with new rules that leave people in the lurch in an undignified and unlawful manner.
Start treating people on the move like human beings. Start to takeover responsibility in coordinating Search and Rescue. Ships with survivors must be allowed to enter the next safe port directly, without detours and without delay to bring the people ashore. Start respecting the existing laws and start to implement a system of real solidarity and law based actions on questions to migration across the whole European Union.